Place your adverts here and enjoy the patronage of our global audience
Three Throne Thorns
First it was money,
Second it was a memory,
Third they were thorns.
The memory about them, thorn turned.
Three of them died in her arms,
One after the other,
The way they were born in reverse order.
Losing them, not realizing.
The cost of her intoxicating love of money,
The pride of her home,
Her children, lost amidst monetary pursuits.
She cried engulfed in triple pains.
Her majestic look smashed,
Her luxurious standards devastated,
Like a calibrated mouse, she behaves madly.
She wept regretfully on her throne acidified.
Premium services :
| Product Adverts | Poetry Publications |
PoetryAbacus. Copyright © 2010, Okpara Okechukwu D.
Comments/Suggestions or errors/bugs should be reported or emailed to the address:
chukwuebube@gmail.com or chukwuebube@ymail.com
Welcome to PoetryAbacus : An all-in-one passion for poetry
Copyright © 2010, OKPARA OKECHUKWU D.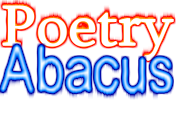 ---