Place your adverts here and enjoy the patronage of our global audience
Price Her Highly
She sends the night to sleep,
And wakes the dawn up.
She taught the clouds how to dance,
When the rains merry.
She made her lips from fine wine,
With faithful discretion.
Seek her as the night seeks the day,
Let her study your alien paths.
Price her cemetery,
Buy her burial grounds.
She lives in treasure's grace,
Praise her, but price her highly.
Premium services :
| Product Adverts | Poetry Publications |
PoetryAbacus. Copyright © 2010, Okpara Okechukwu D.
Comments/Suggestions or errors/bugs should be reported or emailed to the address:
chukwuebube@gmail.com or chukwuebube@ymail.com
Welcome to PoetryAbacus : An all-in-one passion for poetry
Copyright © 2010, OKPARA OKECHUKWU D.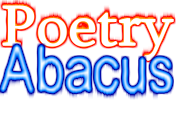 ---