Place your adverts here and enjoy the patronage of our global audience
Maltreated Maid
The way they beat her up;
If only you saw,
How she cried –
The tears, sweat, and blood.
She couldn't endure the pains;
If only you were told,
You weren't there –
Not even in her shoes, place, or condition.
The sorrows in her life;
If only you read,
The agonies in her heart –
Her mind, soul, and being.
Premium services :
| Product Adverts | Poetry Publications |
PoetryAbacus. Copyright © 2010, Okpara Okechukwu D.
Comments/Suggestions or errors/bugs should be reported or emailed to the address:
chukwuebube@gmail.com or chukwuebube@ymail.com
Welcome to PoetryAbacus : An all-in-one passion for poetry
Copyright © 2010, OKPARA OKECHUKWU D.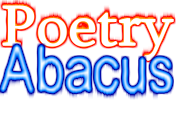 ---