Place your adverts here and enjoy the patronage of our global audience
To Be Sadly Idle
To be ruled in her autocracy:
Both thoughts and mind she drowned.
Emotions utterly besieged,
As my time lay in agony.
To be buried in her veins:
While alive and for life.
A way of life this is,
For people I shared same uniform with.
To be lonely and loneliness is she:
Poured into her bottle.
Those through victim fall,
Are sentenced till break comes.
To be divorced from her:
In marriage and wedlock we shall be.
Gone and death shall be of her poisons,
Never again a moment like hers.
Premium services :
| Product Adverts | Poetry Publications |
PoetryAbacus. Copyright © 2010, Okpara Okechukwu D.
Comments/Suggestions or errors/bugs should be reported or emailed to the address:
chukwuebube@gmail.com or chukwuebube@ymail.com
Welcome to PoetryAbacus : An all-in-one passion for poetry
Copyright © 2010, OKPARA OKECHUKWU D.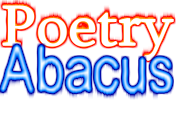 ---