Place your adverts here and enjoy the patronage of our global audience
Dance Of The Fireflies
Nights turned bleak –
No sparkles hung in it.
They have gone without goodbye.
Moon has ran out of glow,
And out of favour with fading distant lights.
The glow flies the environment invited.
A quarter before night's final hour –
On their own they came.
In apparent gallantry –
Small species of emitting stars,
Coming from far away caravans,
Arriving in multitude dusts.
A new season has come.
Their dancing just signalled.
Premium services :
| Product Adverts | Poetry Publications |
PoetryAbacus. Copyright © 2010, Okpara Okechukwu D.
Comments/Suggestions or errors/bugs should be reported or emailed to the address:
chukwuebube@gmail.com or chukwuebube@ymail.com
Welcome to PoetryAbacus : An all-in-one passion for poetry
Copyright © 2010, OKPARA OKECHUKWU D.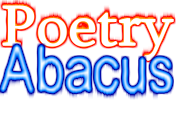 ---