Place your adverts here and enjoy the patronage of our global audience
Twin Confused States
ONE
Mystery and music matched in mental might
Tones and keys aligned in certain cherished combos
Act and sorrow used in staged play of planned meet
Weird and willed together in harmony in off-beat sung
Whilst remembering those twisted dual pieces
Reverence in continual mutual distort
Of no specific thought in pattern or reasoning
A bad benefit of the doubt
Having errors proclaimed in great worth
Like grains and ants in multitude mix
TWO
Medicinal words spread on dilemma oath
For frying troubled pounce of mental muscle pairs at once
Day and night freezing memories of their reached rich wishes
Unsaved again in trade, not counting, account lost;
Their plans planted in unascertained double vain
They returned looking worn and zonked out
Cloaks of words in nowhere exile wore
One on the others identical door then crossed
Can you have your cake and eat it?
Or fly like a bird and still lick your fingers?
Premium services :
| Product Adverts | Poetry Publications |
PoetryAbacus. Copyright © 2010, Okpara Okechukwu D.
Comments/Suggestions or errors/bugs should be reported or emailed to the address:
chukwuebube@gmail.com or chukwuebube@ymail.com
Welcome to PoetryAbacus : An all-in-one passion for poetry
Copyright © 2010, OKPARA OKECHUKWU D.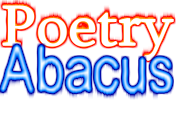 ---