Welcome to PoetryAbacus : an all-in-one passion for poetry

Last Update :
Thu, March 31, 2016 8:33 AM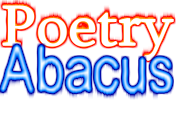 ---
| EDUCATIONAL, INSPIRATIONAL | CREATIVE, IMAGINATIVE | CLASSIC, ROMANTIC | LITERARY, CONTEMPORARY |
Copyright © Okpara C. Okechukwu D. All Rights Reserved.
|2010|
Encouragement
Don't let me down when I'm down:
With your liquid and solid patch me;
And your muscles beam on mine.
By your radiating strength supply:
Your fertile energy, constructed in joy;
That sufficient incident of hope –
In you I'm encouraged.