Welcome to PoetryAbacus : an all-in-one passion for poetry

Last Update :
Thu, March 31, 2016 8:32 AM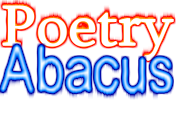 ---
| EDUCATIONAL, INSPIRATIONAL | CREATIVE, IMAGINATIVE | CLASSIC, ROMANTIC | LITERARY, CONTEMPORARY |
Copyright © Okpara C. Okechukwu D. All Rights Reserved.
|2010|
The Angel You See But Don't Know
The world is full of angels, here, there
Friends you could see, enemies they could be
They come in colours, or flavours
Black or white, pure or dirt
The world is full of angels, strangers, neighbours
Categorized with or mistaken for
Perhaps a deceitful ambience or guardians
Good or bad, seen or unknown
Which is knowledge that you can strongly choose:
To see and believe, or to believe and see?
Which is belief that you can safely trust:
The angel you do not know but could see, or the angel you cannot see but do know?
You are a human to a human. A god to God.
Are you "an angel" to an angel? Are you "you" to you?
An angel to others: is known.
An angel to yourself: is seen.