Welcome to PoetryAbacus : an all-in-one passion for poetry

Last Update :
Sat, April 2, 2016 9:33 PM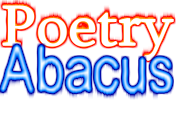 ---
| EDUCATIONAL, INSPIRATIONAL | CREATIVE, IMAGINATIVE | CLASSIC, ROMANTIC | LITERARY, CONTEMPORARY |
Copyright © Okpara C. Okechukwu D. All Rights Reserved.
|13/12/2009|
Write It
Start it now,
Write it down.
Think it through,
But keep it true.
Think about it too,
Don't make it so soon.
It may not be in full,
Just make it cool.
Let not the words depart,
They can set you apart.
Wait not for it,
Write it.