Welcome to PoetryAbacus : an all-in-one passion for poetry

Last Update :
Sun, April 3, 2016 6:36 AM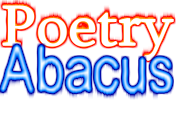 ---
| EDUCATIONAL, INSPIRATIONAL | CREATIVE, IMAGINATIVE | CLASSIC, ROMANTIC | LITERARY, CONTEMPORARY |
Copyright © Okpara C. Okechukwu D. All Rights Reserved.
|20/08/2014|
By My Lady



Love is a feeling, well
That's how she knew me and fixed me
In her sores and scarce scares.
Opening up her store, sparkling
Charm galore and our romance gallery.
I fell in her love's soul coefficient, so
I failed to perform to other women
Or form with their wombs.
I have been perfected, already
By my lady and her love.