Welcome to PoetryAbacus : an all-in-one passion for poetry

Last Update :
Sun, April 3, 2016 6:36 AM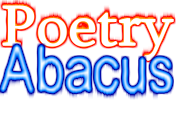 ---
| EDUCATIONAL, INSPIRATIONAL | CREATIVE, IMAGINATIVE | CLASSIC, ROMANTIC | LITERARY, CONTEMPORARY |
Copyright © Okpara C. Okechukwu D. All Rights Reserved.
|18/02/2016|
Vivy's Lilies


Vivy's unborn things browsed,
Then her sex nerves aroused
Her love-finding lilies,
Gleaming news of romance.
Vivy doesn't write
When her lilies aren't feeling alright.
Resident of love,
That isn't vibrantly reflecting.
Vivy's dire habits solicited;
Shen of her every bit addicted.
Vivy's sexiest bed lilies,
Silly but lovely beckoned.