Welcome to PoetryAbacus : an all-in-one passion for poetry

Last Update :
Sun, April 3, 2016 6:36 AM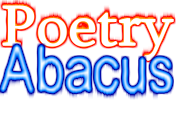 ---
| EDUCATIONAL, INSPIRATIONAL | CREATIVE, IMAGINATIVE | CLASSIC, ROMANTIC | LITERARY, CONTEMPORARY |
Copyright © Okpara C. Okechukwu D. All Rights Reserved.
|20/09/2016|
Love-broken


Love seeks our date
when lonely of a mate
navigating in couples as mild
in every single capture so wild
that matters to the heart
where her lecture's art.
Around love turns us
then breaking it warns us
about a hard delicate swing
on heartbroken wings
touching the places we travelled
when not apparently rivalled.