Welcome to PoetryAbacus : an all-in-one passion for poetry

Last Update :
Sun, April 3, 2016 6:37 AM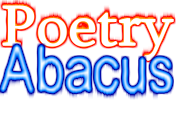 ---
| EDUCATIONAL, INSPIRATIONAL | CREATIVE, IMAGINATIVE | CLASSIC, ROMANTIC | LITERARY, CONTEMPORARY |
Copyright © Okpara C. Okechukwu D. All Rights Reserved.
|19/08/2010|
An Island Inside A Furnace


She had left …
The peace that makes my ocean to stop mourning;
Blinding the darkness in my courtship sun.
Falling winds have trespassed my soul!
A sadness is draining my portraits:
Air-finished lungs, clean-slated head.
Like a scared dust, cut off from the rest of the shining dirt.
I'm fixed like a heartbroken parable.
"May suicide commit thee" Me?
My life for the taking. It's freshness is gone.
Take my name; it can no longer protect me.
"Free men! free men!" (My hates are rejoicing.)
The enemy won't mind anymore;
Because this is the story they're telling.
In this rubble of my troubles: ending my happy beginning!
'Tis the lie I am willing to kill – not a game?
I'm like a trafficking shame.
There's no meaning in my reasoning.
I can't resurrect my dreams. They've gone cold!
She left…me – poor me.