Welcome to PoetryAbacus : an all-in-one passion for poetry

Last Update :
Sun, April 3, 2016 6:37 AM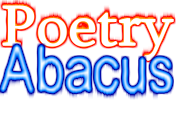 ---
| EDUCATIONAL, INSPIRATIONAL | CREATIVE, IMAGINATIVE | CLASSIC, ROMANTIC | LITERARY, CONTEMPORARY |
Copyright © Okpara C. Okechukwu D. All Rights Reserved.
|17/08/2010|
I'm Your Girl


Leave her
For your eyes only sees her beauty
Which will fade
With time
Leaving you unfortunately saddened
Choose me
And realize that my beauty is within me
Lasting forever
With you
Making you the luckiest guy
She's forming, pretending, trying to please you;
Pass her for she'll only hurt us and you the more.
The choice girl for you I am, do not pass me by;
For you'll only hurt us and me the more.