Welcome to PoetryAbacus : an all-in-one passion for poetry

Last Update :
Sun, April 3, 2016 6:37 AM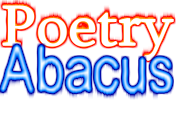 ---
| EDUCATIONAL, INSPIRATIONAL | CREATIVE, IMAGINATIVE | CLASSIC, ROMANTIC | LITERARY, CONTEMPORARY |
Copyright © Okpara C. Okechukwu D. All Rights Reserved.
|15/08/2010|
My Dream Husband


He will like the dirt and ideal thing I am.
Must know my colours, the true colours of my love.
And how to celebrate me in everything;
Celebrating all parts of me every day.
He'll have all my feelings at heart;
And operate me the way I want,
Sweeping me off my feet.
Two of us must be one flower and same,
Growing our passions together.
I must be the only light in his star;
And he must be the only sun shining on me,
The only sea in his blood.
He must taste me like fresh wine daily,
Loving me now and ever – not doubting my love for him.
The love that contains the pages of my heart.
The summary of the book of my life –
My ideal man, the love of my life!
The father of my children, reporting to the family's duties.
Protecting us, and being there for us.
Burying his lies in another galaxy – where they'll be safe.
Decoding the business of our home.