This Dominican Sonnet is dedicated to any good bride (or great wife) out there.
I hope my wife shall be the finest star!
Welcome to PoetryAbacus : an all-in-one passion for poetry

Last Update :
Sun, April 3, 2016 6:39 AM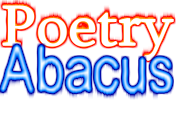 ---
| EDUCATIONAL, INSPIRATIONAL | CREATIVE, IMAGINATIVE | CLASSIC, ROMANTIC | LITERARY, CONTEMPORARY |
Copyright © Okpara C. Okechukwu D. All Rights Reserved.
|09/08/2010|
Star Of Wife


Among the doves dreaming
Homewards, music singing
Song romantic, flying
Towards you espousing.
Green fields, blue skies – love race
Wife, blood evoking star,
Screen of a template grace,
Life of my heart you are.
Emotions in action;
Universe of love, in
Functions voicing motion
Verses, rendering you,
Dry star, wetting my life.
Heart and soul, thank you wife.