"Lust" is what I call "Animal Love".
Line 3 also could be replaced with the oxymoron ( Germs in beauty love jam)
Welcome to PoetryAbacus : an all-in-one passion for poetry

Last Update :
Sun, April 3, 2016 6:39 AM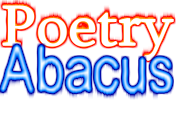 ---
| EDUCATIONAL, INSPIRATIONAL | CREATIVE, IMAGINATIVE | CLASSIC, ROMANTIC | LITERARY, CONTEMPORARY |
Copyright © Okpara C. Okechukwu D. All Rights Reserved.
| 22/05/2010 |
Lusty Love



Lodged pleasures feeling urge;
Jogging along heart surge:
(Germs of sensual love jam.)
Jazzed up in blue jade, aged
Edge of a romance rage?
Purge raunchy flesh and dodge.
Judge the love that budged!
Cursed is a heart that lust;
Bust it will in us cuss:
(Lost is Venus in rust.)
Must Cupid thrust, unjust
Dust parts of love in frost?
Adjust from being the worst.
Trust not love forged in lust!