This is another form of the Dominican Sonnet
This piece is from and for a heart in love
Welcome to PoetryAbacus : an all-in-one passion for poetry

Last Update :
Sun, April 3, 2016 6:39 AM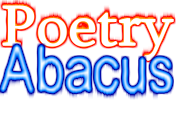 ---
| EDUCATIONAL, INSPIRATIONAL | CREATIVE, IMAGINATIVE | CLASSIC, ROMANTIC | LITERARY, CONTEMPORARY |
Copyright © Okpara C. Okechukwu D. All Rights Reserved.
|20/05/2010|
To My Truth-Be-Known


At you I'll throw swain dart;
That too I would enact.
Doesn't love cleanse our hearts?
Isn't it our love's act?
Simply give me your tale,
Possibly in its best.
If you want you can tell;
If you wish you can test.
Yes by way of grace;
Bless you and I remain;
When I've won your race;
Then from you I'll obtain,
All things that sweet with you;
I'll live their breath for you.