Welcome to PoetryAbacus : an all-in-one passion for poetry

Last Update :
Sun, April 3, 2016 1:14 AM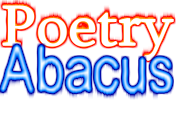 ---
| EDUCATIONAL, INSPIRATIONAL | CREATIVE, IMAGINATIVE | CLASSIC, ROMANTIC | LITERARY, CONTEMPORARY |
Copyright © Okpara C. Okechukwu D. All Rights Reserved.
|15/05/2010|
Lamenting Jilt Conspiracy


A darkness over my unprotected eyes
With which in mull I saw
By beloved in another man's sensual hands.
A sudden piercing of my innermost soul
Where I've managed her love in me.
And she saw me watching them in shackles
As she repressed me to her past.
Does love curse below the belt;
Blinding those whose lives in her negative filmed?
Wretched me, I'm a wretched fullest fool!
Scorpions party in my mind.
In a furnace in stocks I troubled bath.
My girl now rides my heart to die
In heartbroken stupor dumped!
Didn't see the ousting coming.
Yesterday lover, today evictee.
But my loving lasted all this while her feelings lusted.
Can't imagine how she fostered her whole deceptive ensembles.
No, I want her hurtfully squeezed twice in his every hug!
(I'm certain; I'm not as bad as they)
And I wish this jilt be hers or his.