Welcome to PoetryAbacus : an all-in-one passion for poetry

Last Update :
Sun, April 3, 2016 6:40 AM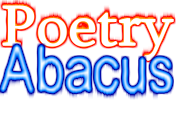 ---
| EDUCATIONAL, INSPIRATIONAL | CREATIVE, IMAGINATIVE | CLASSIC, ROMANTIC | LITERARY, CONTEMPORARY |
Copyright © Okpara C. Okechukwu D. All Rights Reserved.
|18/05/2010|
Love Happened


Why reluctantly tarry my exotic boon?
What an extraordinary muliebrity, my lass you come soon
Wanting you in excess without your ruin
Did I not confide in our romantic recondite moon?

Would it be too much heedfully hazy?
Deriving my lover, driving her lazy river crazy
Across this mislay day lushly display
Is it not what your need beseech in satisfaction my lady?
Is this not the gallant time opening of our someday?
A trip through our unsettled moment of a flirting year
Romance, we gather under your feelings' gay
For a little while, can we not onto you stay?
Must we be solemn judged this hour?
Turn not against us in intense mood sour
So for you, we did vote our gladdened romance, keen kisses in power
Don't we deserve our love happening this hour?