Welcome to PoetryAbacus : an all-in-one passion for poetry

Last Update :
Sun, April 3, 2016 0:32 AM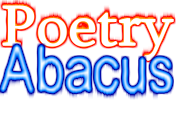 ---
| EDUCATIONAL, INSPIRATIONAL | CREATIVE, IMAGINATIVE | CLASSIC, ROMANTIC | LITERARY, CONTEMPORARY |
Copyright © Okpara C. Okechukwu D. All Rights Reserved.
|06/05/2010|
A Stitched Heart
When I loved you – once loved you –
You tortured me to the brink of wretch
I lost all except love – the one I've now known –
Allow me to let myself heal
While I'm again born – not to be burned again!
Found I've of the man after my own heart – one that smells like mine –
We're fond of each other's dreams, wishes and realities
He cooks so lovely – love meals for me –
If I should measure you with him
And I'm loyal to you both – he's royal, you're betrayal!
My place has found me – and yours you –
Please away stay as I've from you have done
The memories I had with you – with prickly you, scary pricks –
For teaching me thanks to you, but to him thanks the most for learning me
With compassion and forgiveness – the loveliest place in his memories!
I pray for you though I feel the hurt – I doubt you feel –
I have ever thanked him and sworn so
To him I offered myself stitched!