Welcome to PoetryAbacus : an all-in-one passion for poetry

Last Update :
Sun, April 3, 2016 0:30 AM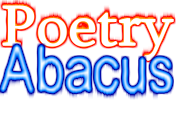 ---
| EDUCATIONAL, INSPIRATIONAL | CREATIVE, IMAGINATIVE | CLASSIC, ROMANTIC | LITERARY, CONTEMPORARY |
Copyright © Okpara C. Okechukwu D. All Rights Reserved.
|06/05/2010|
An Essence Of Love
Dreaming in prayers while the sleep fades,
I saw her and the way she looked.
Her looks softly interprets love in raw hearts;
The language above our laws – sinful or pure.
Like a sailing joy – a death to animals that lie,
With their tongue or on her way.
A piece of law that got the devil's judges killed,
Because they are with the anchor of hate – a distance forbidden.
I preferred hiding the sun to dividing my you.
Pluck yourself off me then no – not me,
Yes! Murder me if you'll forever stay within.
Drug us with your blood's highest dosage, that essential
Strain powered in true love –
A wonder in our lover's soul!