Welcome to PoetryAbacus : an all-in-one passion for poetry

Last Update :
Sun, April 3, 2016 0:03 AM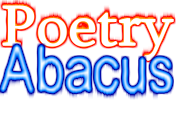 ---
| EDUCATIONAL, INSPIRATIONAL | CREATIVE, IMAGINATIVE | CLASSIC, ROMANTIC | LITERARY, CONTEMPORARY |
Copyright © Okpara C. Okechukwu D. All Rights Reserved.
|15/04/2010|
Fallen In A Vain Love
Why can't I have her?
'Tis she that I desire deserved:
In her I will drive into and park,
In heart and soul.
Why was it me?
Letters I wrote she sent returned:
With pages crying unread,
Punished and torn.
Why doesn't she love me?
Rejecting my license invalidating me:
By cruel words keeping me away,
Seized and cancelled.
Why did I love her?
Fallen in love in vain in pain:
Without the power to choose,
Another love to fall into.