Welcome to PoetryAbacus : an all-in-one passion for poetry

Last Update :
Sat, April 2, 2016 5:59 PM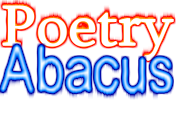 ---
| EDUCATIONAL, INSPIRATIONAL | CREATIVE, IMAGINATIVE | CLASSIC, ROMANTIC | LITERARY, CONTEMPORARY |
Copyright © Okpara C. Okechukwu D. All Rights Reserved.
|30/01/2010|
Heartbreak Atmosphere

With a mismatch lady of rust I trusted
One with fat gallons of sinful deeds
Into me she made her selective entry. An impure mission
Cloud of her feminine deviousness inundated my unsuspecting eyes
Can't believe how with her makeshift charm I paired
With her secret perfidy of clustered cruelty
Her tricky moves; deluding and prevaricating
Promises from her; empty and wrong
Emerging from an unsuitable dimension
Came her cavalry of deceptive logic
Ideas from patrolling unfaithful thoughts
Of unscrupulous tongue with its cheating words
The shape of the loving space I drew for her
She did changed by day and by night
Into hurt with her unclean lips
And so she deceived me
Crafty and pitiless she handled me
Betrayed my heart
Bamboozled my soul
I think I'm either an idiot or that I'm feeling like a moron
She was really greatly guile, beguiling me again and again
My trust in pieces she left
My feelings she defrauded in big measure
An ensnaring cunning witch!