Place your adverts here and enjoy the patronage of our global audience
The Moment Of Love
Moment of crazy endearing charms,
We have mutually fallen into you.
Let your sweetness endure forever.
So may it be, our utopian time.
My darling, all I could see is you.
My senses utterly hypnotized by you.
I have fallen into the deepest unconscious trap of reality,
Built by nature.
Listen to my humble feelings my dearest.
I will confess at this very point,
I feel like melting under your virtuous eyes.
I am trembling from the aroma of your gracious being.
How graciously precious you are my queen!
Even if time's hands have reached infinity,
Our love will help us fly through,
This moment.
Premium services :
| Product Adverts | Poetry Publications |
PoetryAbacus. Copyright © 2010, Okpara Okechukwu D.
Comments/Suggestions or errors/bugs should be reported or emailed to the address:
chukwuebube@gmail.com or chukwuebube@ymail.com
Welcome to PoetryAbacus : An all-in-one passion for poetry
Copyright © 2010, OKPARA OKECHUKWU D.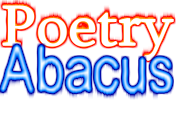 ---