Place your adverts here and enjoy the patronage of our global audience
A Romance With Lady 'Unseen'
'Twas strangely weird to know,
My emotions pour in no specific lady's cup.
Their trains fly over my defences,
Asking me to fetch them a suitable female airport.
Restless they are since then,
And causing me too.
I cannot find any lovely lady's line,
From the pages of my life's romantic novel.
Emotions assembling multitude in me,
Distorting my stressed out controls.
Stripping off my rational coats,
Tortured by sleep filled with their presence.
They haunt my submissive memories of her,
She is like music acting everywhere in my head.
Premium services :
| Product Adverts | Poetry Publications |
PoetryAbacus. Copyright © 2010, Okpara Okechukwu D.
Comments/Suggestions or errors/bugs should be reported or emailed to the address:
chukwuebube@gmail.com or chukwuebube@ymail.com
Welcome to PoetryAbacus : An all-in-one passion for poetry
Copyright © 2010, OKPARA OKECHUKWU D.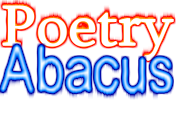 ---