Welcome to PoetryAbacus : an all-in-one passion for poetry

Last Update :
Sat, April 2, 2016 6:29 PM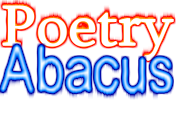 ---
| EDUCATIONAL, INSPIRATIONAL | CREATIVE, IMAGINATIVE | CLASSIC, ROMANTIC | LITERARY, CONTEMPORARY |
Copyright © Okpara C. Okechukwu D. All Rights Reserved.
|07/11/2009|
Hot-Hearted Queen
Her figure a sensuous vivacity;
Flourishing in vitality carriage.
Too much love the symbol;
Of this furiously lively idol.
Penetrating with love's unquestionable ingress;
From the furthermost portions of emotions.
Thrusting at my glaring admiration;
Oozing love from herself.
Aye I aver she simply took
My heart along with her;
And all my wishes she put in her.