Place your adverts here and enjoy the patronage of our global audience
Love's Hurt
For a girl that loved him not he'd fallen,
Into love that'd teach him hurt,
And treat him like the best known fool,
In grave of passion.
The fee – a cost of love.
If only he could be that better spirit she seeks.
Yea, she seemed a profit of a lifetime to him;
So he believed or hoped.
An imagination and not a happening –
That has made him the most lost man.
The fee – a pain in love.
If only he could solve that natural hole she owns.
Yea, she had the love he needs;
So he trusted or dreamt.
Not knowing the unknown hurt aching –
Caused by loving the wrong one.
Premium services :
| Product Adverts | Poetry Publications |
PoetryAbacus. Copyright © 2010, Okpara Okechukwu D.
Comments/Suggestions or errors/bugs should be reported or emailed to the address:
chukwuebube@gmail.com or chukwuebube@ymail.com
Welcome to PoetryAbacus : An all-in-one passion for poetry
Copyright © 2010, OKPARA OKECHUKWU D.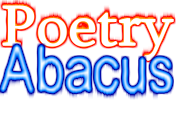 ---