Place your adverts here and enjoy the patronage of our global audience
Love At First Sight
A lady and a gentleman –
Or the bachelor and the gentlewoman.
Unforeseen feeling,
Improvisational feeling,
In Godsend package.
An entry that requires no keys,
Wearing an extempore appearance.
Goo-goo eyed stare,
Emotively derived,
From two sparkling eye sets.
Pure enticement,
Of an impulsive natural form.
Between this two –
Lady and her knight pair.
Premium services :
| Product Adverts | Poetry Publications |
PoetryAbacus. Copyright © 2010, Okpara Okechukwu D.
Comments/Suggestions or errors/bugs should be reported or emailed to the address:
chukwuebube@gmail.com or chukwuebube@ymail.com
Welcome to PoetryAbacus : An all-in-one passion for poetry
Copyright © 2010, OKPARA OKECHUKWU D.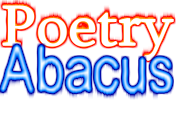 ---