Place your adverts here and enjoy the patronage of our global audience
Angel Of Love
When I looked into your eyes,
I found myself very small.
When I stretched out my hand and touched you,
I felt a touch in my own heart.
When you fell ill, I found no health;
I have found you by love and luck.
My prayer will always be at your door to protect you,
Even when you needed it least.
If by my actions you shed tears,
I shall never let the drops reach the ground.
If by our fault we had words,
I shall never let you feel the guilt alone.
If in this world you die without cause,
I shall never let you go all alone.
You are my angel and my love,
My angel of love.
Premium services :
| Product Adverts | Poetry Publications |
PoetryAbacus. Copyright © 2010, Okpara Okechukwu D.
Comments/Suggestions or errors/bugs should be reported or emailed to the address:
chukwuebube@gmail.com or chukwuebube@ymail.com
Welcome to PoetryAbacus : An all-in-one passion for poetry
Copyright © 2010, OKPARA OKECHUKWU D.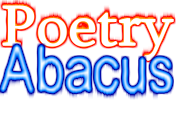 ---