Place your adverts here and enjoy the patronage of our global audience
My Love
My love, the tree we planted in our hearts has bore fruits,
Look beyond my heart and see its strong roots,
I can see nothing but the fruits,
And you shine like the sun upon them.
My love, see how rich we are in heart,
Our presence makes our blood flow with joy,
By our hug we made our blood warm,
And you keep them alive.
My love, see how near our hearts are,
The distance can't be measured because there's no space,
Our hearts firmly tied as one,
And you keep me complete.
Premium services :
| Product Adverts | Poetry Publications |
PoetryAbacus. Copyright © 2010, Okpara Okechukwu D.
Comments/Suggestions or errors/bugs should be reported or emailed to the address:
chukwuebube@gmail.com or chukwuebube@ymail.com
Welcome to PoetryAbacus : An all-in-one passion for poetry
Copyright © 2010, OKPARA OKECHUKWU D.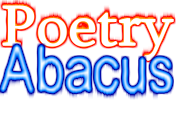 ---