Welcome to PoetryAbacus : an all-in-one passion for poetry

Last Update :
Sat, April 2, 2016 9:38 PM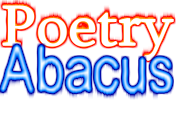 ---
| EDUCATIONAL, INSPIRATIONAL | CREATIVE, IMAGINATIVE | CLASSIC, ROMANTIC | LITERARY, CONTEMPORARY |
Copyright © Okpara C. Okechukwu D. All Rights Reserved.
|13/12/2009|
Romantic Episodes
I
Return to me and my kisses dear.
Prolong your absence but your arrival promise me.
That I may ride your memory enjoying you;
Every bit of your sugar and sweetness.
Pack me and pour me into your romance.
And rest me in your love crest tranquillized.
II
Drawn by your coruscating charms;
To your unblemished self positively add me.
Fly me through your needs.
Teach me your heart course.
May I travel it every week span
And so fail in breaking your heart.
III
Absolute you of paramount, purity build.
In your dazzling destiny I am engrossed.
Epicurean arousal and voluptuous beauty.
Ravishing my inveigled, captured heart.
Enthralling, enthusing feminine subject;
Inspiriting my already captivated, impressed affair.
IV
Induced my heart to desire you sensuously.
Exhilaratingly gratifying cast onto me;
For this sake our union I believed.
Lured into surveying your beautiful detailed self.
Bracing sentiments soothing in favour
Of our migrating homeward love.