Her Wish
Her little arms have defeated me;
That wish was hers.
Her water's running in my bones;
This wish is hers.
To swiftly switch me on;
Was a wish she owns.
To politely make me a tenant in her love;
Is a wish she owns.
As the phone rang her name echoed;
From the valley of her wish.
What a clear view of love's want;
In the valley of her wish.
Hardly could I catch my breath;
Falling fast within her wish.
Hope I can find my way back;
Falling deep within her wish.
Making the wrong things right;
Was her wish.
Choosing me from the crowd.
Is her wish.
Premium services :
| Product Adverts | Poetry Publications |
PoetryAbacus. Copyright © 2010, Okpara Okechukwu D.
Comments/Suggestions or errors/bugs should be reported or emailed to the address:
chukwuebube@gmail.com or chukwuebube@ymail.com
Welcome to PoetryAbacus : An all-in-one passion for poetry
Copyright © 2010, OKPARA OKECHUKWU D.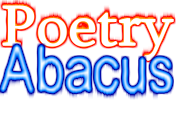 ---