Place your adverts here and enjoy the patronage of our global audience
A Psalm Of Love
Her character is a republic of trust.
Her every breath is a cause of existence.
She is a fountain where sweet memories swim.
She holds hearts with her strings.
Star-hearts she keeps unbreakable,
And a broken heart amendable.
Our dreams surrender to her.
Our empty skin flushed with excitement in her;
Longing for her the more.
Sweet roses, we invite you, we need your gorgeous scent
Oh sleepy roseate clouds with rosy cheeks
Bring us your rosewater rain.
Build for us a pool of emotions.
Rain till night is light.
Playing life's piano as reality winds whistled along.
Our hearts dancing to her cherishing tunes:
And we are singing the true harmonious chorus.
Premium services :
| Product Adverts | Poetry Publications |
PoetryAbacus. Copyright © 2010, Okpara Okechukwu D.
Comments/Suggestions or errors/bugs should be reported or emailed to the address:
chukwuebube@gmail.com or chukwuebube@ymail.com
Welcome to PoetryAbacus : An all-in-one passion for poetry
Copyright © 2010, OKPARA OKECHUKWU D.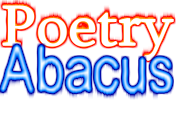 ---