Place your adverts here and enjoy the patronage of our global audience
An Immortal Wound Of Seduction
He impregnated her, dumped her, and denied it.
Her case was the biggest of seduction.
Lost her virginity and excellent academic pursuits –
Because she gave in to his desires;
She listened to his lust and bought his lies.

Despicable and filthy she was, feeling empty inside.
Physically and emotionally abused with great exploitation;
Socially derailed and spiritually customized.
She was just witnessing hell in life;
Letting him cut her heart in pieces.
She suffered shame and humiliation in huge measure.
For years he left her in despair, and trauma,
To suffer for her believe and trust in him.
He never cared but used her and kept her in the house of neglect.
With her a broken heart she lived.
Premium services :
| Product Adverts | Poetry Publications |
PoetryAbacus. Copyright © 2010, Okpara Okechukwu D.
Comments/Suggestions or errors/bugs should be reported or emailed to the address:
chukwuebube@gmail.com or chukwuebube@ymail.com
Welcome to PoetryAbacus : An all-in-one passion for poetry
Copyright © 2010, OKPARA OKECHUKWU D.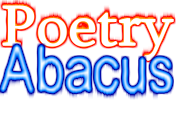 ---