Place your adverts here and enjoy the patronage of our global audience
Angelic Companion
To any trouble filled mind she gave no meal.
Her simplistic manner of understanding, a stunning essence;
Very excellent in curbing romantic worrying winds.
In the depths of love's heart she can dig.
The stiffness of hate's tongue she softens;
Knotting the susceptible junctions of hate's come.
She is like a prayer for comfort.
The look in her too-calm eyes pacifying;
The basis for formulating friendship contained in her presence.
Premium services :
| Product Adverts | Poetry Publications |
PoetryAbacus. Copyright © 2010, Okpara Okechukwu D.
Comments/Suggestions or errors/bugs should be reported or emailed to the address:
chukwuebube@gmail.com or chukwuebube@ymail.com
Welcome to PoetryAbacus : An all-in-one passion for poetry
Copyright © 2010, OKPARA OKECHUKWU D.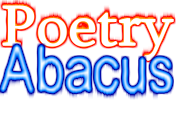 ---