Place your adverts here and enjoy the patronage of our global audience
Sound Of Love
O my lovebird,
How meek your voice is,
In warmth heard!
Wet kisses placed in trust upon your coloured name.
Your singing is a tasty twinkling passion;
A supermodel voice mildly streaming from love's bin,
In conception splendidly talented,
Absconded from slandering stains,
An unhindered utility of blessed music,
One that heals with sounds divine.
Propagating listening molecules of care
O my lovebird,
How pleasant you make me canoe,
In your voice!
Premium services :
| Product Adverts | Poetry Publications |
PoetryAbacus. Copyright © 2010, Okpara Okechukwu D.
Comments/Suggestions or errors/bugs should be reported or emailed to the address:
chukwuebube@gmail.com or chukwuebube@ymail.com
Welcome to PoetryAbacus : An all-in-one passion for poetry
Copyright © 2010, OKPARA OKECHUKWU D.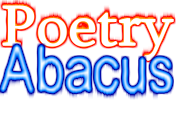 ---