Place your adverts here and enjoy the patronage of our global audience
Final Flirt
Your flirting was illegal;
Because you are my lover.
Your good lies were true.
If what caught you weren't my eyes;
That truth you would've made untrue.
Why have you constructed this decision;
To flirt and not to love?
Why do you have me hurt thus?
Chewing my trust to unconsciousness.
Your flirting career exposed.
My senses are not senseless.
I am putting an end to our love phenomenon.
Premium services :
| Product Adverts | Poetry Publications |
PoetryAbacus. Copyright © 2010, Okpara Okechukwu D.
Comments/Suggestions or errors/bugs should be reported or emailed to the address:
chukwuebube@gmail.com or chukwuebube@ymail.com
Welcome to PoetryAbacus : An all-in-one passion for poetry
Copyright © 2010, OKPARA OKECHUKWU D.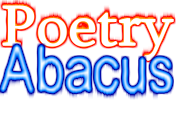 ---