Place your adverts here and enjoy the patronage of our global audience
My London Lover
Naked azure sky on its jealous court
Viewing a lovely lady and her tiger-walks.
Making me romantic with her pretty smiles
Smiling at my admiring stare.
She's looking at me
At the very spot I'm looking on her.
She's in London, miles away from my unhappy seat
If we're gods we'd have punished the distance.
She made a wish which whispered to me
And gave birth to an ever-living echo in my heart.
I took up a blue pen and posted the moment
"I love you" was the letter.
I'll go to London one wonderful day with a gold ring and diamond necklace
To gum myself to you.
Yes, in a cream linen suit and a milk-coloured tie
To tie myself to you.
If this be the first and last mistake of my love affair
I'd be committing it on you.
Premium services :
| Product Adverts | Poetry Publications |
PoetryAbacus. Copyright © 2010, Okpara Okechukwu D.
Comments/Suggestions or errors/bugs should be reported or emailed to the address:
chukwuebube@gmail.com or chukwuebube@ymail.com
Welcome to PoetryAbacus : An all-in-one passion for poetry
Copyright © 2010, OKPARA OKECHUKWU D.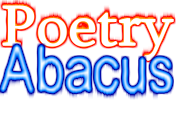 ---