Place your adverts here and enjoy the patronage of our global audience
One Love! One Heart
One Love! You're the one after my own heart
Come let's stay together
One Love! You have a heart of gold
Let's share what we have
One Love! You have won my heart
Your wish is my command
One Love! My heart goes out to you
I'll always be there for you
One Love! We'd a heart-to-heart with each other
Isn't it fun to be in love?
One Love! I don't have the heart to hurt you
Because I'm in love with you
One Love! And your heart leapt
It's time we got married
One Love! It does me good to love you
How about a wedding on the 14th?
One Love! Don't say, "I do" with a heavy heart
We will live happily ever after
One Love! One heart
And that's all we've got
Premium services :
| Product Adverts | Poetry Publications |
PoetryAbacus. Copyright © 2010, Okpara Okechukwu D.
Comments/Suggestions or errors/bugs should be reported or emailed to the address:
chukwuebube@gmail.com or chukwuebube@ymail.com
Welcome to PoetryAbacus : An all-in-one passion for poetry
Copyright © 2010, OKPARA OKECHUKWU D.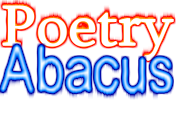 ---