Place your adverts here and enjoy the patronage of our global audience
How You Loved Me
Flew over her head I did,
Over her head like a dove.
Sat near her to write,
Near her writing about her.
Looked up to her adorable image,
Adoring her lovely face.
Watching her closely looking at me,
Her eyes breathless on mine.
Loving charms oozing out of her,
Charms that affected her.
I love you,
And how you loved me.
Premium services :
| Product Adverts | Poetry Publications |
PoetryAbacus. Copyright © 2010, Okpara Okechukwu D.
Comments/Suggestions or errors/bugs should be reported or emailed to the address:
chukwuebube@gmail.com or chukwuebube@ymail.com
Welcome to PoetryAbacus : An all-in-one passion for poetry
Copyright © 2010, OKPARA OKECHUKWU D.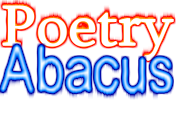 ---