Place your adverts here and enjoy the patronage of our global audience
Could This Be Love?
Emotions are threatening upon me –
To rape the feelings I helplessly felt.
And has arrested my threshold line of romance –
Where chaste gentlemen are overpowered beyond reason.
I feel your furnace and quake within –
Burning my blood to faint.
Drowning the burnt vapour drops –
Sparing only those locked in self-controlled refuge.
Over two decades I couldn't love a lady –
Not of illness doing or lack of luck's rule.
In good faith I don't know why –
Could it be how I don't know?
This sensual culture growth –
At the expense of my Christian youth;
In sharp contrast contrary to my belief –
Could this be love or myth?
Premium services :
| Product Adverts | Poetry Publications |
PoetryAbacus. Copyright © 2010, Okpara Okechukwu D.
Comments/Suggestions or errors/bugs should be reported or emailed to the address:
chukwuebube@gmail.com or chukwuebube@ymail.com
Welcome to PoetryAbacus : An all-in-one passion for poetry
Copyright © 2010, OKPARA OKECHUKWU D.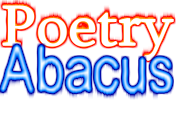 ---