Place your adverts here and enjoy the patronage of our global audience
Wedlock Answered
I'm proposing the theory to wed you
A solution to our equation exists
Predicting you as a function of me.
I shall marry you at the nice intersection
Of the graph I'm boldly plotting
Of me against you.
I promise I will always apply
The formula of loving you
And all its derivatives.
Premium services :
| Product Adverts | Poetry Publications |
PoetryAbacus. Copyright © 2010, Okpara Okechukwu D.
Comments/Suggestions or errors/bugs should be reported or emailed to the address:
chukwuebube@gmail.com or chukwuebube@ymail.com
Welcome to PoetryAbacus : An all-in-one passion for poetry
Copyright © 2010, OKPARA OKECHUKWU D.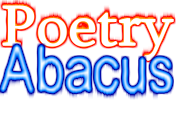 ---