Place your adverts here and enjoy the patronage of our global audience
Addicted To You
You are the love I sing,
And all I need to love.
You are the love I wear,
And your love is all I ever had.
I wish to jump out of my doubtful passion,
And free myself in you.
I want to step out of the prison virgin I live in,
And let go of my emotional kisses on you.
Free my love, let it fly in your heart,
And quench your superhot body on mine.
Let your eyes rest in me,
And your home in me forever be.
Premium services :
| Product Adverts | Poetry Publications |
PoetryAbacus. Copyright © 2010, Okpara Okechukwu D.
Comments/Suggestions or errors/bugs should be reported or emailed to the address:
chukwuebube@gmail.com or chukwuebube@ymail.com
Welcome to PoetryAbacus : An all-in-one passion for poetry
Copyright © 2010, OKPARA OKECHUKWU D.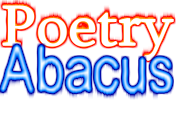 ---