Place your adverts here and enjoy the patronage of our global audience
I Miss You
I soaked your health in my care's clothing.
Sculpturing your decency,
And rejuvenating all its sable growth.
Seasoning you with loving services.
Utterly in need of you.
Cherishing every bit of the moment,
We ever spent together.
Mounds of you I made with spade and heart,
At every sentimentalized sundown.
Prating in your absence,
With an elusive step-love.
I miss you the most entirely.
Missing you I have.
I miss you very much.
Premium services :
| Product Adverts | Poetry Publications |
PoetryAbacus. Copyright © 2010, Okpara Okechukwu D.
Comments/Suggestions or errors/bugs should be reported or emailed to the address:
chukwuebube@gmail.com or chukwuebube@ymail.com
Welcome to PoetryAbacus : An all-in-one passion for poetry
Copyright © 2010, OKPARA OKECHUKWU D.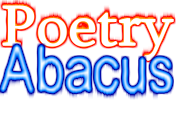 ---