Place your adverts here and enjoy the patronage of our global audience
The Customer I Loved
I bestowed another smile on him.
He noted the message on my face,
But pretended he hadn't acknowledged it,
And didn't attach a smile in reply on his face,
Even if not meant for me.
Then I took his order and made nice comments.
But he looked as if he had neither cared nor listened,
Nor took notice of my compliments,
He tendered neither a word nor his eyes.
From my stand I watched him.
Silently admiring him, a hidden urge;
I wanted to go back to his table and say something.
But restrained myself with much effort.
He's one of my usual customers; he's unusual.
I might not risk my job on him,
But I can risk myself on him.
What am I even saying?
He's worth it, and that's all I cared.
One day as I watched him eat;
He pulsed instantly as if he had seen my face in his meal.
And gradually he glanced up at me for the first time over what seemed a lifetime.
My heart knotted, I felt faint and dizzy.
We found ourselves saying "hello" voicelessly over fifteen feet.
We knew what it all meant.
From that very moment onwards,
I became his trader of love,
And he remained my customer.
Premium services :
| Product Adverts | Poetry Publications |
PoetryAbacus. Copyright © 2010, Okpara Okechukwu D.
Comments/Suggestions or errors/bugs should be reported or emailed to the address:
chukwuebube@gmail.com or chukwuebube@ymail.com
Welcome to PoetryAbacus : An all-in-one passion for poetry
Copyright © 2010, OKPARA OKECHUKWU D.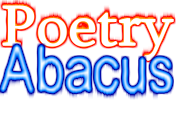 ---