Place your adverts here and enjoy the patronage of our global audience
A Confused Love Letter
Dear Nonchalant Love,
I hope by now you've seen me burnt and in ashes ache.
And the pains of the fermented goals I've mistakenly aimed at.
By your fault, murdered were my dearest dreams.
A sort of fool I now am.
My trusted emotions you shut out.
Those tormenting starved feelings, I no longer can forget.
You've vaporized me to a limit I can't bear.
The ambulance of my feelings, near and felt:
Too late now for me.
Realized how in error I've loved you.
Because of our nameless velocity relationship;
That has drove me shamefully into your romance tricks,
And landed me on a spot love doesn't trod.
Your Confused Lover.
Premium services :
| Product Adverts | Poetry Publications |
PoetryAbacus. Copyright © 2010, Okpara Okechukwu D.
Comments/Suggestions or errors/bugs should be reported or emailed to the address:
chukwuebube@gmail.com or chukwuebube@ymail.com
Welcome to PoetryAbacus : An all-in-one passion for poetry
Copyright © 2010, OKPARA OKECHUKWU D.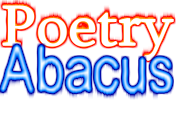 ---