Previously called: Dominic's Second Sonnets Of Love
Welcome to PoetryAbacus : an all-in-one passion for poetry

Last Update :
Tue, March 29, 2016 2:42 PM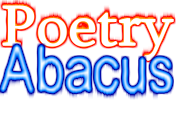 ---
| EDUCATIONAL, INSPIRATIONAL | CREATIVE, IMAGINATIVE | CLASSIC, ROMANTIC | LITERARY, CONTEMPORARY |
Copyright © Okpara C. Okechukwu D. All Rights Reserved.
|2006|
Dominique's Second Hearty Songs Of Love
Verse I
What you are about to read;
I offer you to drink in thinking instead.
'Twas about me and a crooked lady's love –
Let it not dissolve you.
An adulterated love conceived she.
Nicely cooked, seasoned with actress pretence,
Served on chameleon plate.
Would have fallen for that;
If not too hot for lustful eating.
Patiently but calculating she waited, keeping her cool.
Her body, sensuous bait.
Gentlemen would fall in thousand I swear.
My nature exempted from such.
Stopping here, applying brakes to my thinking.
Verse II
Defenceless me,
Petals unstained,
And self-controlled stem;
Winds of emotion bends my wings much.
Boys would be boys –
My image not one.
My face full of shy smiles;
If allowed would shyly run.
Scared to turn a misused trust;
With this predator lady.
Travelling in my veins as a tourist's tour;
Terrorizing my little inexperienced child's heart.
Couldn't understand why her acts she praised as normal –
On my other cultured blood.
Verse III
I can't approach a lady, the wild animal!
I do have a lady's blood,
Of course repulsion is sure.
But I'm not certain of this thought.
To be fairly honest,
I tend to love –
With a borrowed heart.
One that is not faint.
Tied with morale charms and moral chains –
Educated in chastity school;
And in a home of discipline.
What I've become I can't describe.
My heart's still infancy intact:
To love and be loved.