Previously called: Dominic's First Sonnets Of Love
Welcome to PoetryAbacus : an all-in-one passion for poetry

Last Update :
Tue, March 29, 2016 2:38 PM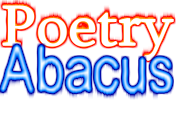 ---
| EDUCATIONAL, INSPIRATIONAL | CREATIVE, IMAGINATIVE | CLASSIC, ROMANTIC | LITERARY, CONTEMPORARY |
Copyright © Okpara C. Okechukwu D. All Rights Reserved.
|2006|
Dominique's First Hearty Songs Of Love
Verse I
My fair lady I love you and your lovely name.
And I have no lies to bind to my love for you.
Your faults I made good and acquitted in my court.
The errors you wrote, I made good a report.
The totality of your world I desire.
Your greatest shame is safe with me.
Your character I credit, your attitude I praise.
Within me I longed for gracious you.
So my queen, my heart, you sweetly charmed –
In your high-esteem consider my passionate soul.
I'm of young stature and lowly youth.
Teach my heart how to live with yours.
Show me the beauty in every word of your love.
Grant me the understanding of your loving prudence.
Verse II
You're the most expensive feeling I've ever known.
Yet I must buy you no matter your fee.
I would sell all my fortune and possessions:
And labour for your sake, and our fate –
With a strength stressed beyond threshold.
Rains do arrive and travel to and fro:
Unlike they, my tears and cries has remained a burden, stagnant.
How did our love become a constant debate to bear?
As long as they clash, I'll have to pay.
I wonder what you made of my love.
Living in a tormented mood no one could bear in love.
Songs of tragedy are waiting to mourn one of us:
Thus my grave would be merry in case you stayed a bit longer.
And if so, read my Will to my wishes, they know where to go and what to do.

Verse III
A minute would be absolute generosity.
I beg of you to spare for us a moment or less.
Please for the sake of my health and your virtuousness;
Even if thinking of me would cast sadness upon your fairness.
Look not on my ignorance but on our love, its brilliance.
There you'll find without much of a warning sense:
The interest you've always sang to your loneliness.
In that same interest dwells my happiness.
Our sorrows is ours to comfort, our wounds is ours to heal.
That ugly queen you invited need to leave.
You spoilt her with your indifference and my abuse;
But I judge you not, you chose me, and so we are free.
You've made me a prisoner and my heart besieged, till arrested.
You pushed me to fall and into your heart's home, in love.