Welcome to PoetryAbacus : an all-in-one passion for poetry

Last Update :
Tue, March 29, 2016 2:28 PM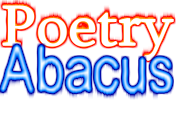 ---
| EDUCATIONAL, INSPIRATIONAL | CREATIVE, IMAGINATIVE | CLASSIC, ROMANTIC | LITERARY, CONTEMPORARY |
Copyright © Okpara C. Okechukwu D. All Rights Reserved.
|2006|
My Monk Is In Love
Here comes me and my disturbing thoughts,
Our knowledge we shared fairly.
We were best of friends in minds and stories,
Something happened in one of the many times we were together.
Holding hands in usual friendly fashion,
Our focus in casual union.
The peace and what we truly needed to stay in touch were robbed of us,
By some passing noisy – or nosy, winds,
That grew tired of themselves later.
Just as they threw in the towel something or someone occurred.
Either it or she appeared; I saw one and the other I felt.
Then or though my mouth was still open,
I heard my voice but could not recognize nor claim it.
I did not even know what I said, because I knew not what to say.
Whether I spoke or not,
It seemed the sound was coming from a mouth standing beside me;
That have been left open for what seemed a decade.
It was so strange that I doubted again if it belonged to me.
To deny or disown it became a debate before my reason.
To save time, I accepted it was not mine.
My thoughts claimed it was not theirs either.
So we owned up by agreement to continue.
Magnificent! Magnanimous! Immaculate!
O I cannot remember the one that came first,
Nor the one I said last.
There were thunderstorms;
In both my head and heart.
For lack of more decent words I will skip here;
Also to a clean slate keep my beautiful thoughts.
What I am going to paint for you now made me faint then.
It scared my colour and ordination and,
Turned my shadow blue at the instance of her sight.
This story critically questioned the strength of my morals.
Yet I fought back with nothing but my emotions.
How would you know that you have falling in ...?
Sorry the last words came mute and expressionless;
But feelingly real.
She reigned in the rain in tranquillity,
Humiliating its rules with her high humility.
The effect she had on me was...
The right words had gone on strike again!
She was fairer than my ever finest dreams.
Crossed the simple boundaries which my best friend could not reach.
I beg you to spare this business of reason,
Because I live in a monastery,
She was in love with me but with my monk.